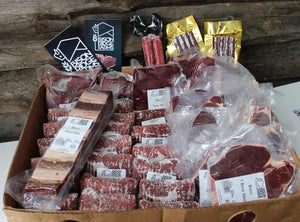 Fill your freezer with an 1/8 share of bison.
45lbs of bison meat in a variety of cuts approximately including:
- 20 Ground
- 4 Stew
- 6 Blade steak
- 2 Sirloin steak
- 6 T-bone steak
- 4 Rib steak
- 2 Roasts (2-3 lbs ea)
- 1 rack short ribs or equal value of prime rib fingers depending on availability 
- 1 pack of sausage
- 2 packs of jerky
**Specifics will vary slightly depending on availability. We weigh each box to make sure it's about 45lbs and will add premium cuts to make up any differences.**
**DELIVERY available for Prince Albert and Saskatoon residence once a week. Flat rate shipping available for Regina and Saskatoon. Select your preferred option at checkout**
If you would like to order but not in either of the above areas for delivery please contact us to see if we can work something out!