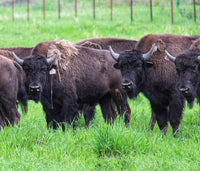 PREMIUM, HEALTHY PROTEIN
Bison Ridge Farms is a family owned and operated farm located NW of Prince Albert, Saskatchewan. Our goal is to produce and raise high quality animals while capitalizing on the land's full potential. We are committed to producing a premium, healthy protein source.
MORE ABOUT BISON MEAT
OUR FARM
Established in 2018 with a focus on raising and producing high quality bison while utilizing our land in a sustainable, responsible, and profitable way.
OUR HERD
Grazing wide open spaces as they have for thousands of years, we maintain strong wood genetics and pride ourselves in the quality of our animals.
OUR LAND
Situated along the banks of the North Saskatchewan River our land provides us with nutrient rich forage, natural tree coverage, and an abundance of wildlife.
Awesome product that matches awesome service! Thank you 5 stars all the way

Neena Durocher-Guy
Great pricing and service with Bison Ridge Farms! To your door delivery. Great tasting bison! So lean but not dry! It is obvious that they take good care of their herd!

Craig Johnson
I love my steaks, like many do. Had my first bison steak this evening and I can honestly say I would choose bison steak over beef steak any day. All the cuts and styles of meat are so tender and flavourful.

Brennin Isbister
Bison Ridge Farms are the best! The bison is amazing and the service is outstanding!!! Love the tenderloin!

Elaine Sheehan Britton