RED LENTIL SOUP WITH MINI BISON MEATBALLS
 Lentils and bison together?! This soup is sure to fill you up offering lots of nutrients from both the bison meatballs and the lentils. If you like a bit of spice in your dish be sure to use the full amount of pepper. If you prefer milder spice cut the pepper in half and add to taste. You can always top with sour cream to help cut the heat if it's a little too much for your taste buds! 
Red Lentil Soup with Mini Bison Meatballs
Ingredients:
1 cup dried split red lentils, rinsed
8 cups water
4 Tbsp canola oil, divided
1 large yellow onion, diced
1 lb ground bison
4 cloves garlic, minced
2 tsp kosher salt
2 tsp fresh ground pepper (reduce for milder flavor)
1 ½ tsp coriander
1 tsp ground cumin
½ tsp powdered turmeric
2 Tbsp fresh lemon juice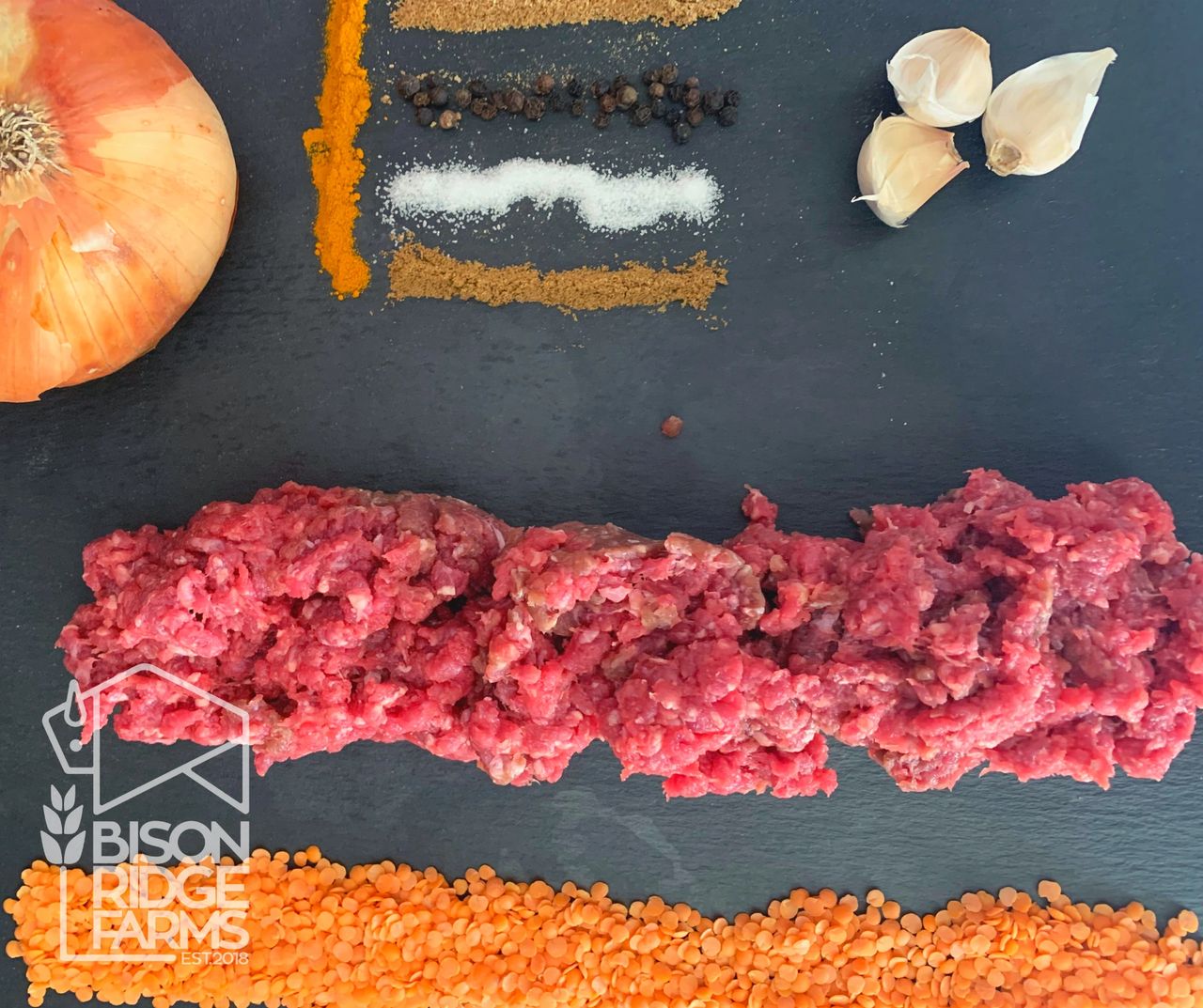 Method:
1. In a large saucepan, combine the lentils and water. Bring to a boil over high heat. Reduce heat, cover and let simmer for about 40 minutes until lentils start to break down. 
2. Meanwhile, in a large skillet over medium heat, add 2 Tbsp oil and diced onion. Cook, stirring occasionally, for about 10 minutes until golden. Transfer to a bowl and set aside.
3. Prepare the meatballs: In a mixing bowl, combine the following then form into marble sized balls:
     · Ground bison
     · 4 cloves minced garlic
     · 1 tsp kosher salt
     · 1 tsp pepper
     · 1 tsp coriander
4. Using the same skillet that was used for the onions, add the remaining 2 Tbsp oil and brown the meatballs. Cook until browned all over, stirring to flip meatballs. 
5. Add cooked onions and meatballs to the pot of lentils and add remaining spices:
     · 1 tsp kosher salt
     · 1 tsp pepper
     · ½ tsp coriander
     · ½ tsp cumin
     · ½ tsp turmeric
6. Cook over medium-low heat for 10 minutes. Stir in lemon and serve with fresh bread and sour cream to reduce spiciness if need be.