Bison and Eggplant Rice Bowl
Bison and Eggplant Rice Bowl 
This Asian inspired dish is a one bowl meal packed with flavor and is quick and easy to make. It does require a number of ingredients but the method in making it is quite simple. 
Time required: 30-40 minutes
Servings: 3-4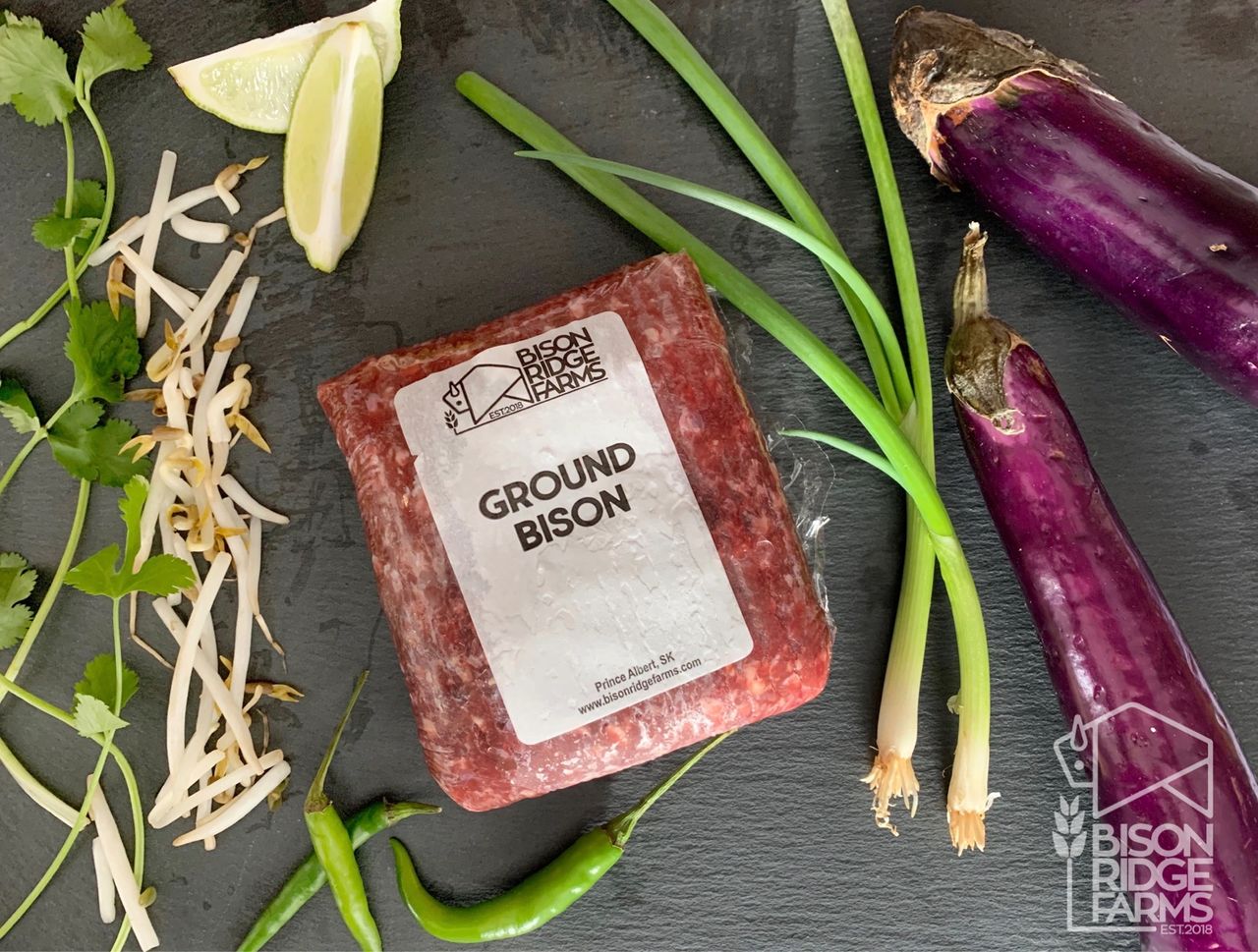 Ingredients:
Rice:
2cups rice
3 ½ cups water
½ tsp salt
Eggplant:
1 lb Chinese eggplant (about two long eggplants), diced
2 Tbsp canola oil
Bison:
3 Tbsp soy sauce
3 Tbsp hoisin sauce
3 Tbsp lime juice
2 Tbsp water
1 Tbsp fish sauce
1 Tbsp cornstarch
1lb ground bison
1 Tbsp canola oil
2 Tbsp fresh chopped ginger
2 cloves chopped garlic
1 chilli pepper, seeded 
Toppings:
2 cups bean sprouts
4 green onion
1 cup cilantro leaves
1 lime, quartered 
Rice:
1. In a saucepan, bring the rice, water and salt to a boil. Stir, cover and cook over low heat for about 20 minutes or until liquid is absorbed. Remove from heat, fluff and let rest for 5 minutes. 
Eggplant:
2. In a large cast iron skillet over medium-high heat, cook half the diced eggplant at a time in 1 Tbsp oil for 10 minutes or until browned. Season with salt and pepper. Set aside and keep warm. 
Bison:
3. In a bowl combine the soy sauce, hoisin sauce, lime juice, water, fish sauce, and cornstarch. Set aside. 
4. In the same pan used for the eggplant, over high heat, brown the bison in oil until golden, breaking it up as you go with a wooden spoon. Add the soy sauce mixture, ginger, garlic and chili pepper. Bring to a boil and cook for 1 minute or until meat is coated well with the sauce. 
5. Arrange in bowls starting with the rice, then bison, eggplant and top with bean sprouts, cilantro leaves, green onion and a slice of lime.